---
The official Twitter account for the live-action film of Makoto Ojiro's Insomniacs After School) (Kimi wa Hōkago Insomnia) manga posted a new teaser trailer and visual for the film on Wednesday. The teaser reveals the film's June opening date.
*✰。﹋﹋﹋﹋⋆。✰。⋆﹋﹋﹋﹋。✰*

  #君は放課後インソムニア
   🕯🎞特報解禁🎞🕯

    ──まだ起きてる?

     6月公開

*✰。﹋﹋﹋﹋⋆。✰。⋆﹋﹋﹋﹋。✰*#森七菜 #奥平大兼 #映画君ソム #君ソム pic.twitter.com/LRFvkypJip

— 映画『君は放課後インソムニア』 (@kimisomu_movie) January 24, 2023
Nana Mori (Weathering With You, live-action Liar x Liar) and Daiken Okudaira (Mother, Sōchō Shihatsu no Sappūkei) star as the two leads Isaki Magari and Ganta Nakami, respectively. Chihiro Ikeda (Tokyo Rendezvous, Towako Omameda and Her Three Ex-Husbands, Creepy, Startup Girls) is directing. United Productions is planning and producing the project, and Pony Canyon is distributing.
The manga is set in Nanao City in Ishikawa Prefecture, and the production filmed on location at the city for about a month between July and August.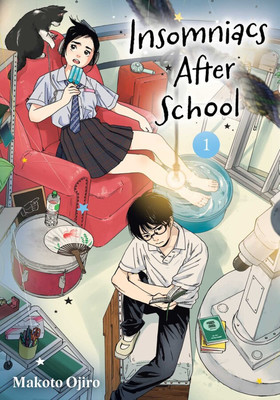 Viz Media licensed the manga, and will release its first compiled book volume on March 21. The company describes the manga:
Two sleepless teenagers find kinship as they escape to their school's astronomy observatory.

Unable to sleep at night, Ganta Nakami is cranky in class and unpopular with his classmates. Nakami discovers that the observatory, once used by the defunct astronomy club, may be the perfect place for a nap—but he's not alone. Nakami and his new friend Isaki Magari find comfort in each other while coping with insomnia.

No one goes near the astronomy tower due to dark rumors about the fate of the last astronomy club members. Nakami and his classmate Magari decide it's their insomniacs' sanctuary. Unfortunately, the school faculty can't allow the unsanctioned use. But if there were a new astronomy club…
Ojiro launched the manga in Shogakukan's Big Comic Spirits magazine in May 2019. Shogakukan published the manga's 11th volume on January 12.
The manga is also inspiring a television anime that will premiere in April. The music video for rock band Macaroni Enpitsu's "Enshin" (Centrifuge) song featured art from the manga in 2019.
Source: Insomniacs After School live-action film's Twitter account, Comic Natalie
---